Films I SF I At Home
Here is a selection of films for Spring Fling.
You can view each one by clicking on the Vimeo link. I recommend that once there you click on full screen for viewing.
MIST
View Mist on Vimeo here . . .
This film reflects on how our visual and auditory responses are altered by the weather, and in particular by mist. It can roll in and out at speed and reconfigure the known landscape into something altogether different.
Length 00:06:40
WATER KNOWS NO BOUNDARIES
View Water Knows No Boundaries on Vimeo here . . .
This film is about the sea and the land, place and time, boundaries and landfall. I once heard that if I could label every molecule in a glass of water, pour it into the sea and at some time in the future take out another glassful from anywhere on earth, some of those molecules would be inside that water. It celebrates the notion that all water is free to travel, knows no boundaries, laws or restrictions. How much could we learn from and about the more-than-human world if we took time to observe instead of abuse it.
Length 00:13:44
HIGH TIDES and SHIFTING SANDS
View High Tides and Shifting Sands on Vimeo here . . .
Rising sea levels and fierce winter storms are gradually encroaching and eroding away the tide line. Sand masses are slowly but surely being moved from one place to another, creating sand bars where previously there were only sea beds. Filmed in a bay in South West Scotland this film explores and documents the inevitable changes constantly being wrought by climate change to the more than human world.
Length 00:04:41
RISING TIDE
View Rising Tide on Vimeo here . . .
Sea thrift, a bonny seashore plant common in the UK, may not be as secure as we think. In Portugal it has been listed on the IUCN red list as vulnerable. As sea levels rise so will the risk to many of our shoreline plants.
Length 00:09:45
COLTSFOOT IN SEED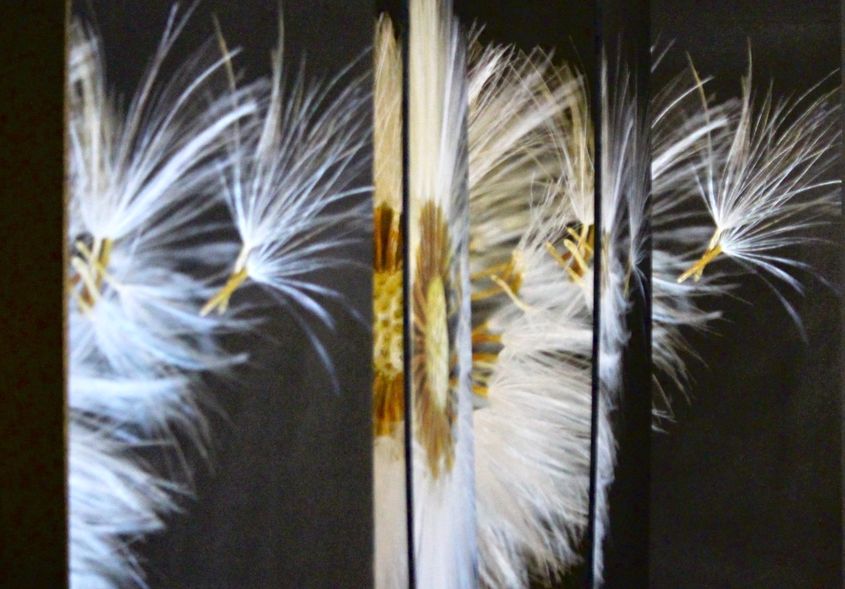 View Coltsfoot in Seed on Vimeo here . . .
The coltsfoot is a plant that disperses its seeds by wind. After flowering the seeds are set and ripen in readiness for the perfect puff of wind to send them on their way. This film shows a seed head in just such a state and you are invited to consider the seed dispersal through the use of film and kinetic sculpture. Durational film, a study of the space-time continuum, reflects the gentle process of seed dissemination whilst allowing a close examination of the beauty of this natural process, which is not usually available to the naked eye.
Music: Dream 1 Max Richter 2015
Length 00:11:54